Constituency

Statement - Youth unemployment plummets in Hume

Thursday, 24 May 2018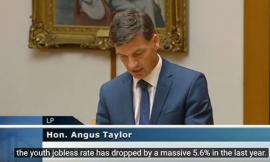 Video of speech>>             Mr TAYLOR (Hume—Minister for Law Enforcement and Cyber Security) (10:02): Youth unemployment has plummeted in Hume. In Hume's north, the outer south-west of Sydney, the youth jobless rate has dropped by a massive 5.6 per cent in the last year. Around Goulburn, in an area stretching down south to Queanbeyan, youth unemployment has dropped three percentage points in the last year. There's still more work to be done, but these are absolutely fantastic outcomes. The overall unemployment rate in Hume is amongst the lowest in Australia, at just three per cent. I was talking to new business owners in Picton the other day, Ayesha and George from Guilty or Not Gelato Bar. They're open next week and are already employing nine young casuals. They're looking to take on more young people and train them up in ice-cream making, chocolatiering and being a barista. It sounds like a pretty good start to a career.
In the 2016-17 financial year, 470 new businesses were registered in Hume. There were 62 in Goulburn; 50 in Mount Annan; 40 in Picton; 39 in Camden and another 35 in Narellan, right next door; 27 in Elderslie; 23 in Silverdale; 29 in Tahmoor; 18 in Bargo; 11 in Crookwell; and more elsewhere. So what types of jobs are being generated? In the north, around Camden, there's been a huge jump in retail. Around 14,000 people are employed there in the retail trade. That's a jump of 4,200 people—new jobs in retail—in just one year. Health care and social work employ 18½ thousand people in northern Hume. In the past year that's jumped by 4½ thousand people.
Every lever of policy from our government is being pulled towards more and better jobs. Just last week, we delivered on a major commitment: helping one million more Australians into work. That's a million more jobs than when we were elected to government in 2013. 2017 was the best year on record for jobs growth. Our budget will continue to build on that platform. Of the $75 billion infrastructure investment across Australia, billions of that will happen in my electorate, particularly in the north up towards the new Western Sydney Airport. The construction sector in the north of Hume employs more than 14,500 people and a further 13,500 work in the manufacturing sector in that region. That kind of job creation doesn't happen by accident. Thriving businesses create jobs and give Australians the opportunity to work, to save and to get ahead. The Coalition government is delivering jobs for Australians and delivering jobs for Hume.
FEDERAL COALITION INVESTS $BILLIONS IN HUME
MAKING THINGS HAPPEN FOR HUME
Loading Map...