$1

million in drought funding for Hilltops and Upper Lachlan

Thursday, 14 November 2019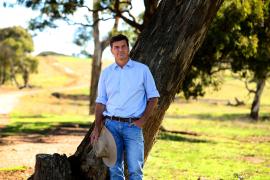 Two local government areas in Hume have now been included in the Coalition Government's $709 million drought relief package. Upper Lachlan Shire Council and Hilltops Council will each receive a significant $1 million funding boost.
Federal Member for Hume Angus Taylor said the package announced by the Prime Minister last week was designed to support both farmers and communities through these dry times.
"Both Upper Lachlan and Hilltops Councils will now join the 122 local government areas around the country receiving funding to assist them through the drought," Mr Taylor said.
"This funding will go towards investment in projects that support jobs and businesses in Upper Lachlan and Hilltops communities."
"Farmers will also have access to loans of up to $2 million and businesses that depend on agriculture can access interest free loans of up to $500,000."
"The rural communities in Hilltops and Upper Lachlan have been doing it tough, this funding will help these areas get through the drought and bounce back faster when the drought finally breaks."
"I know many farmers and small business owners in Hume are struggling, please get in touch with my office if you would like more information on available drought assistance."
Further information on the support available for drought-affected farms and communities can also be accessed at http://www.agriculture.gov.au/drought/.
FEDERAL COALITION INVESTS $BILLIONS IN HUME
MAKING THINGS HAPPEN FOR HUME
Loading Map...