148

new businesses open in Wollondilly in 12 months

Thursday, 07 March 2019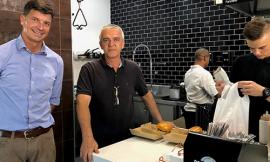 Federal Member for Hume Angus Taylor has welcomed news that 148 new businesses have opened in the major centres of the Wollondilly Shire in 12 months.
More than 1000 new businesses have opened in the electorate of Hume in the 2017-18 financial year.
Mr Taylor met with small business owner Clary Aliseris from Off The Rail diner in Thirlmere on the weekend, congratulating Mr Aliseris on opening up locally.
"Wollondilly is one of the fastest growing areas in my electorate and it's exciting to see new businesses doing well," Mr Taylor said.
He said the Federal Government was offering a broad range of support for small business owners including reduced company tax, increasing the instant asset write-off scheme, establishing a new securitisation fund for loans to small business, and new subsidies for regional employers to take on an apprentice.
Mr Aliseris said one of his biggest challenges was finding staff close by.
"We have only locals employed, because it's too difficult for others to find their way here," Mr Aliseris said.
"That said, I've been open for 14 months now and it's going fantastic. While I've had businesses elsewhere in Sydney, this is the best because of the great people here at Thirlmere."
In the year 2017-18, 148 new businesses were registered in Picton (39), Silverdale (34), Tahmoor (25), Thirlmere (28) and Bargo (22).
In 2013-14 there were 1181 active businesses in Picton (539), Tahmoor (307), Bargo (290) and Thirlmere (245).
In 2017-18 that number had jumped by more than 500, to 1698 active businesses in Picton (665), Tahmoor (352), Bargo (362) and Thirlmere (324).
LOCALITY

 

NEW BUSINESSES (2017-18)

ACTIVE BUSINESSES (2017-18)

Picton

39

665

Silverdale

34

465

Tahmoor

 

25

352

Thirlmere

 

28

324

Bargo

22

366

 

 

 
(Dept of Industry, Innovation and Science Business Report 2017-18)
Caption: Federal Member for Hume Angus Taylor with Off The Rail café owner Clary Aliseris of Thirlmere, one of 148 businesses that have recently opened in Wollondilly.
FEDERAL COALITION INVESTS $BILLIONS IN HUME
MAKING THINGS HAPPEN FOR HUME
Loading Map...