$30

million for 1000 extra carparks for Macarthur and Campbelltown

Sunday, 28 April 2019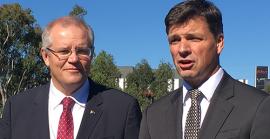 Federal Member for Hume Angus Taylor has welcomed today's announcement of $30 million for extra carparking at Macarthur and Campbelltown railway stations. The funding will deliver up to an additional 500 car parks at Campbelltown station and 500 carparks at Macarthur station.
Mr Taylor said the commitment would complement the NSW Government's announcement in February of an additional 350 carparking spaces at Leppington Station, on top of the 900 spaces already available at Leppington.
"I have been directly involved in lobbying for these extra 1000 spaces. I have been pushing the case with the Minister for Cities Alan Tudge for many months now," Mr Taylor said.
"This is a great commitment, benefiting commuters from Camden, Narellan, Penrith, Picton, Bargo and through to the Southern Highlands. It's a transport strategy that is smart and clear and will have a real impact."
Mr Taylor said the Campbelltown and Macarthur carparking was part of an additional $167.5 million for Western Sydney commuter carparks, to get residents out of traffic.
"Whether it's the new airport, the North South Rail Link, or our congestion-busting road projects, we are working hard and in partnership with the Berejiklian Government to support a major transformation of western and south-western Sydney.
"We have also committed $3.5 billion to rail infrastructure that will be up and running the day the airport starts operating. All of this means more jobs for the people of Hume and our infrastructure plan will get everyone home sooner each day.
"The only way Bill Shorten and Labor will be able to pay for new road and rail projects for Hume commuters is by placing at least $387 billion in new and higher taxes on the hardworking residents of areas like Penrith, Camden, Narellan and Picton."
Caption: Prime Minister Scott Morrison and Member for Hume Angus Taylor at Macarthur Railway Station.
FEDERAL COALITION INVESTS $BILLIONS IN HUME
MAKING THINGS HAPPEN FOR HUME
Loading Map...