80

new businesses open in Goulburn Mulwaree in 12 months

Friday, 22 February 2019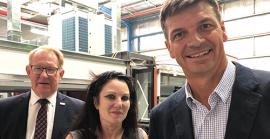 Angus Taylor video>>  Federal Member for Hume Angus Taylor has welcomed news that 80 new businesses have opened in Goulburn in 12 months.
More than 1000 new businesses have opened in the electorate of Hume in the 2017-18 financial year.
Visiting newly opened glass manufacturer Dragon Glass at Bradfordville on Friday, MrTaylor congratulated owner Kate Wendt on her decision to establish locally.
This is a particularly exciting new business because Kate has a boutique product which she will be exporting to the world," Mr Taylor said.
"From the design of her own lamination machinery, to the production of multi-layered, toughened glass for structural applications, Dragon Glass is an ambitious enterprise which aims to set new industry standards."
Owner Ms Wendt said she chose Goulburn because of the transport and logistical advantages.
"I'm an hour and a half to my warehouse at Bankstown, I'm in and out of Canberra and all around Australia. There is a fabulous rail hub here where my materials can be brought in and sent out very easily. For transport and logistics, Goulburn is the perfect place," Ms Wendt said.
Mr Taylor said construction related businesses, such as glass manufacturing and installation, had seen the greatest rate of development in Goulburn Mulwaree in the past 12 months.
"I am aware this kind of growth is not blanket growth. There are some sectors doing it tough, particularly retail.
"But in terms of localities across my electorate, Goulburn has seen the highest rate of new business growth." (Dept of Industry, Innovation and Science Business Report 2017-18)
 

LOCALITY

 

NEW BUSINESSES (2017-18)

ACTIVE BUSINESSES (17-18)

Goulburn

80

1,675

Camden

50

708

Mount Annan

70

706

Picton

39

665

Narellan

34

612

Silverdale

34

465

Elderslie

43

441

Crookwell

17

370

Bargo      

22

366

Narellan Vale

36

360

 

 

 

Total Top 10 Localities

425

6,368

All other Hume localities

616

9,707

 

 

 

Total (170 Hume localities)

1,041

16,075
FEDERAL COALITION INVESTS $BILLIONS IN HUME
MAKING THINGS HAPPEN FOR HUME
Loading Map...