Additional

bushfire assistance extended to Goulburn and Upper Lachlan

Monday, 10 February 2020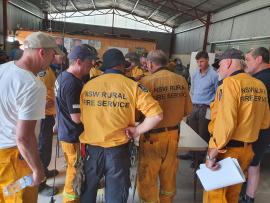 Grants of $75,000 are now available for primary producers and $50,000 for small businesses in Goulburn Mulwaree and Upper Lachlan.
Federal Member for Hume Angus Taylor said assistance for farmers and small businesses is being provided through the Australian Government Disaster Recovery Payment (AGDRP).
"Primary producers and small businesses within Goulburn Mulwaree and Upper Lachlan that have been affected by the recent bushfires, can apply for these grants which will support their recovery," Mr Taylor said.
"The grant money can be used for a range of needs such as disposal of dead stock and damaged goods, caring for injured livestock, fencing repair, replacing stock and vital on farm equipment," Mr Taylor said.
This is part of the $2 billion commitment the Government has made to address the impact of recent bushfires. Assistance is being provided under the jointly funded Commonwealth-State Disaster Recovery Funding Arrangements (DRFA).
Farmers and small business owners can call the Department of Human Services to check their eligibility.
For more information or to make a claim visit www.humanservices.gov.au/disaster or call 180 22 66.
FEDERAL COALITION INVESTS $BILLIONS IN HUME
MAKING THINGS HAPPEN FOR HUME
Loading Map...