AgShows

grant applications now open

Thursday, 10 October 2019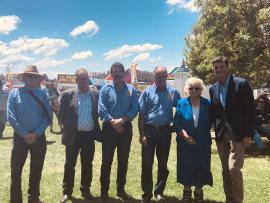 Federal Member for Hume Angus Taylor is encouraging show societies in Hume to apply for the Regional Agricultural Show Development Grants Program (AgShows) for funding to upgrade, maintain, buy or build new showground infrastructure and attractions.
Mr Taylor said applications were now open for the $20 million AgShows program.
"I would encourage all regional show societies in Hume to apply for up to $500,000 funding under this program.
Agricultural shows in this area have a long standing history and are well known for showcasing the best of our region from local produce, culture, industry and business.
They are part of our national identity and bring communities closer together, especially in times of drought and other hardships," Mr Taylor said.
The government's $20 million AgShows investment will reinvigorate showgrounds, helping to give regional communities the boost that they need.
"Grants can be used for repair or upgrades on a range of showground related infrastructure and attractions including grandstands, animal holding yards, agricultural exhibits or outdoor seating," Mr Taylor said.
Eligible show societies in Hume include Picton, Goulburn, Boorowa, Crookwell, Gunning, Jerrawa, Tarago and Taralga.
Applications close 13 December 2019, with successful applicants expected to be announced in the first half of 2020. 
For more details and to apply visit GrantConnect at www.grants.gov.au.
FEDERAL COALITION INVESTS $BILLIONS IN HUME
MAKING THINGS HAPPEN FOR HUME
Loading Map...