Angus

wants to hear from southern villages locals

Monday, 24 July 2017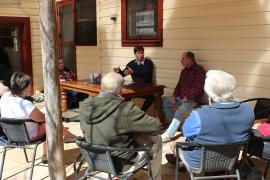 Telecommunications will be at the top of the agenda when Federal Member for Hume Angus Taylor meets with Southern Highlands villages residents this Saturday (July 29).
Mr Taylor says he wants to catch up with as many locals as possible during a series of three 'village visits' at Bundanoon, Exeter and Wingello.
"For me as an MP, being accessible to your communities – to listen – is what's most important," Mr Taylor said.
"Village visits are a great way to enable me to do this and for people to share their concerns and thoughts with me in a relaxed setting.
"I know communities in the southern villages of the Highlands want better telecommunications, so I am especially keen to hear from residents about their experiences and suggestions with their internet and mobile phone connectivity.
"The nbn fixed line has been rolled out to most of Bundanoon, and fixed wireless broadband towers are now operating from North Bundanoon and Wingello.
"An nbn tower at Exeter will be switched on soon, and Goulburn Mulwaree Council has just approved a tower for Marulan which will service that district.
"Improved services are on their way, but I know there is still a lot of work to be done."
Mr Taylor will be at the following locations on Saturday July 29:
10am Exeter, Exeter General Store
11:30am Bundanoon, Jumping Rock Café
1pm – Wingello, Wingello Village Store
Mr Taylor said he was also working with Telstra on their plans for a new mobile phone tower at Bundanoon.
"I encourage everyone to say hello on Saturday and to share with me any issues or concerns they have which are of a federal nature such as telecommunications, the NDIS or community grant programs for example," he said.
"If people can't make it, they can always ring me on 1300 301 826, or email me at angus.taylor.mp@aph.gov.au."
FEDERAL COALITION INVESTS $BILLIONS IN HUME
MAKING THINGS HAPPEN FOR HUME
Loading Map...