Appin

Road overtaking lane and traffic separation barriers

Wednesday, 24 April 2019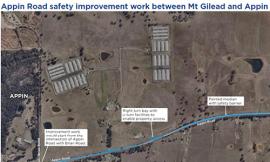 Angus Taylor MP, Federal Member for Hume today announced that the next stage of the Federal Coalition's $50 million upgrade of Appin Road will include a northbound overtaking lane and traffic separation barriers. Angus Taylor video >> 
"Early safety works have been completed along Appin Road - including installing safety signs, guideposts and audio tactile line marking, as well as removing tree stumps - and the detailed investigation and design for the next stage of targeted safety improvements is underway," Mr Taylor said.
"The next stage of upgrades will include a new northbound overtaking lane with a traffic separation barrier.
"Traffic separation will be installed along the existing southbound overtaking lane and u-turn facilities will be built to the north and south of this overtaking lane to improve access to nearby properties.
"We'll be widening travel lanes in each direction, as well as installing new line marking and safety signs, shoulder sealing, pavement upgrades and fauna fencing.
"About five kilometres of Appin Road, between Rosemeadow and Appin, will be upgraded in this next stage of work, to improve safety for the 10,000 motorists who use the road every day."
The $50 million project also includes a Link Road Corridor Study expected to be completed by October 2019, which is planning for a future east-west connecting road, to reduce traffic volumes on Appin Road.
Analysis of shortlisted route options is currently underway with the next workshop scheduled for next month.
FEDERAL COALITION INVESTS $BILLIONS IN HUME
MAKING THINGS HAPPEN FOR HUME
Loading Map...