Application

call for heavy vehicle safety funding

Friday, 22 November 2019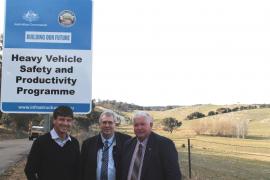 Federal Member for Hume Angus Taylor is calling for applications for funding through the National Heavy Vehicle Regulator (NHVR).
"The opening of Round 5 of the NHVR's Heavy Vehicle Safety Initiative will make roads in our region much safer and I urge members of the community to consider projects that could become a reality with the assistance of this program," Mr Taylor said.

"The HVSI has delivered great projects across Hume in the past, with almost $6 million invested in the last four rounds of the program. These include two new heavy vehicle acceleration lanes on Picton Road, the realignment of Devil's Elbow corner in the Upper Lachlan Shire and over $2 million for re-sealing works on Galong Road near Boorowa."

"This round will be focused on groups and projects delivering safety benefits for the heavy vehicle industry including driver physical and mental wellbeing as well as benefits for other road users."

"If you have a project or program, education or awareness campaign, or materials that increase safety awareness and compliance that requires funding or support to make it happen, we want to hear from you.

Applications for round five funding are open until 21 February 2020. To submit an application please visit www.nhvr.gov.au/hvsi.

Projects must commence in the 2020–21 financial year and be completed by 30 June 2023.
FEDERAL COALITION INVESTS $BILLIONS IN HUME
MAKING THINGS HAPPEN FOR HUME
Loading Map...