Boosting

tourism potential of beautiful Wombeyan Caves

Tuesday, 26 March 2019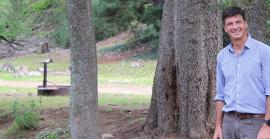 Federal Member for Hume Angus Taylor has announced $2.5 million in Federal funding to upgrade Wombeyan Caves Road to unlock further tourism potential for the campground and nature reserve.
The road will be rebuilt and sealed for 6km from the Jerrong Road intersection, with funding from the Building Better Regions program Round Four.
It follows last week's announcement of Federal funding for a small cell mobile phone base station for the Wombeyan Caves campground, one of six new base stations for the electorate of Hume.
Mr Taylor visited the campground with Upper Lachlan Shire Mayor John Stafford to make the announcement.
"This is one of the more beautiful parts of the Upper Lachlan and it's a great pleasure to be able to confirm funding to upgrade this section of the road, to be matched by funding from the NSW Government," Mr Taylor said.
"This reserve is scenically and historically significant, with nearly 30,000 visitors to the caves last year. By improving mobile phone coverage here and the road leading into the site from the Upper Lachlan end, we're encouraging more tourism dollars into the area. There's a lot of untapped potential here."
Mayor John Stafford said roadworks would be likely to start in July, weather pending.
"I would like to thank Angus and the Federal Government for this funding, which has brought this upgrade to fruition," Mr Stafford said.
"These works will significantly improve safety and open the roadway up to a greater range of vehicles, allowing more people to visit this breathtakingly beautiful natural wonder and stay at the scenic campground."
Mr Taylor said public interest premises such as tourist spots, including the Wombeyan Caves campground, were prioritised in Round 4 of the Federal Government's Mobile Black Spot Program. 
He said small cell base stations would typically deliver 4G mobile coverage across an area of several kilometres.
Hume has received funding for a total of 17 mobile base stations under the four rounds of the program.
Caption: 'There's a lot of untapped potential here." Federal Member for Hume Angus Taylor announcing $2.5 million to upgrade 6km of Wombeyan Caves Road to boost the tourism potential of the reserve and campground. Mr Taylor was joined by Upper Lachlan Shire mayor John Stafford at the campground site.
FEDERAL COALITION INVESTS $BILLIONS IN HUME
MAKING THINGS HAPPEN FOR HUME
Loading Map...