Businesses

applaud new Narellan Road lanes

Tuesday, 20 March 2018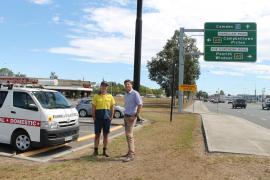 Video: Angus Taylor MP talking to local businessman Adam Archer
Completion of new traffic lanes to widen Narellan Road has been applauded by local businesses.
Improved traffic flow along Narellan Road is saving motorists considerable time on the drive between Narellan and Campbelltown.
Funnells Electrical spokesman Adam Archer said the upgrades were delivering savings in time and money.
"Whereas before we'd have a call from Campbelltown and we'd have to tell them we might be up to an hour or more away in peak hour, now it's taken at least 20 minutes off in peak hour. We can guarantee we're going to be there on time," Mr Archer said.
Federal Member for Hume Angus Taylor said the infrastructure build in south-western Sydney was starting to get ahead of growth.
"We have this unique window I think, where we can push ahead and get to a point where jobs and infrastructure come on ahead of, or in line with, housing. That's the nirvana I'm pushing to and I think it's now within reach," Mr Taylor said.
"This is why the Western Sydney City Deal is so important because we now have alignment between federal, state and local governments, across party lines, on a vision for where we're going in western and south-western Sydney, which everyone has signed up to.
"The road build around the planned Western Sydney Airport is happening very quickly. It's unusual for the Federal Government to play the lead role in building a major new suburban centre, but that's what we're doing here."
Stage 2 (the final stage) of Narellan Road upgrades is nearing completion, with three lanes now open instead of two on both sides of Narellan Road between Camden Valley Way and Blaxland Road.
Bus bays and cycle lanes on Narellan Road Bridge are expected to be completed by the end of March.
The Narellan Road upgrades are a joint $114 million commitment by the Australian and NSW Governments to reduce congestion and improve safety and travel times.
FEDERAL INVESTMENT IN HUME TOPS $10 BILLION
MAKING THINGS HAPPEN FOR HUME
Loading Map...