Celebrate

our heroes this Australia Day

Friday, 24 January 2020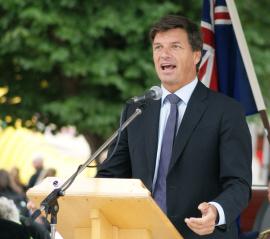 Federal Member for Hume Angus Taylor says Australia Day has always been a day to reflect and to celebrate our extraordinary nation and our people with their unwavering community spirit and generosity.
"In the past few months we've seen the Aussie spirit at its best. The recent bushfires have shown what incredible community resilience we have in this country and how in times of hardship, we pull together as one," Mr Taylor said.
"This Australia Day we particularly celebrate those Australians who have in recent months fought bushfires, protected communities, tended to wildlife and supported the bushfire relief and recovery efforts."
"The Aussie spirit of mateship and volunteering is what I've seen when I've visited the bushfire ravaged towns in Hume. People working together, giving up their time, donating what they can and protecting their homes and community - that's what Australia Day celebrates, mate helping mate."
"The RFS, SES and emergency services have done an amazing job this fire season. We do need to acknowledge the losses that people have suffered, but I think we also need to look at what our volunteers have been able to save - the lives, the homes, properties, entire towns and communities. We owe a great deal to them."
"We live in the greatest country in the world, where we have more opportunities, greater freedoms and more reasons to be optimistic than any other nation."
"This Australia Day, whether you're attending a local community event or spending time with family and friends, lets celebrate our beautiful country and its people, our resilience and generosity in the face of adversity and our unwavering community spirit."
FEDERAL COALITION INVESTS $BILLIONS IN HUME
MAKING THINGS HAPPEN FOR HUME
Loading Map...