Delivering

for Upper Lachlan: mobile base stations, new business growth, infrastructure investment tops $70 million

Wednesday, 01 May 2019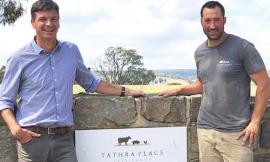 Federal Member for Hume Angus Taylor has outlined the wins for the Upper Lachlan region under the Coalition Government. What's happening around the Upper Lachlan >>
"There is growth and investment all along the Hume corridor, with new businesses opening up across the Upper Lachlan," Mr Taylor said.
"I caught up with new business owner Luke Winder at Taralga recently. Luke owns a 100-acre free range poultry farm, employing four locals, and moved to the area from Sydney two years ago.
"He delivers weekly to a number of Sydney restaurants, as well as supplying duck to the caterers at Parliament House in Canberra."
"The Upper Lachlan is a region rich in agricultural history and with a promising future ahead.
"As we all know, connectivity is critical for businesses and households here. There are new mobile base stations coming for Tuena, Wombeyan Caves and Wayo, following a 4G base station for Gunning, the switch-on of mobile towers at Dalton, Tarlo, Laggan, Rye Park, Lost River and Golspie (17 Hume mobile base stations in total), as well as extended 4G coverage and the nbn rollout across the district.
"Let's keep the momentum happening!"
Infrastructure investment in Upper Lachlan Shire tops $70 million under the Coalition.
More than 700 active businesses in the shire's major centres, increase of 276 under Coalition.
In Crookwell, 59 new businesses have opened in 4 years.
$2.5 million Wombeyan Caves Road upgrade and mobile base station for campground.
Abercrombie River Bridge replacement, $750,000.
Better mobile phone coverage: highest number of mobile phone towers in Hume – Dalton, Lost River, Laggan, Rye Park, Golspie and Tarlo.
4G small cell base station in Gunning; small cells coming for Wayo, Wombeyan Caves and Tuena.
Devil's Elbow re-alignment near Gunning, $266,500.
Federal funding helps Gunning District Community and Health Service to expand.
NBN fibre across Crookwell, 600 local premises have connected.
Satellite NBN for district properties. 3,500 properties able to connect.
St Mary's Primary School Crookwell upgrade.
$34 million in recurrent roads funding for Upper Lachlan Shire (through to 2023).
Kiamma Creek Bridge upgrade, $450,000.
Upgrades along Taralga Road.
Crookwell Swimming Pool upgrade, $15,000.
Rye Park Soldiers Memorial Hall - second water tank at community hall, $2,500.
Playground upgrades across shire $19,000
SUPPORTING LOCAL SMALL BUSINESSES: Angus Taylor with Taralga new business owner Luke Winder.  
FEDERAL COALITION INVESTS $BILLIONS IN HUME
MAKING THINGS HAPPEN FOR HUME
Loading Map...