Drought

affected communities to benefit from Building Better Regions Round Four

Thursday, 14 November 2019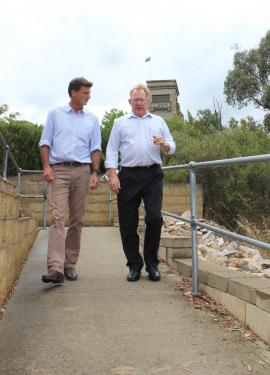 Round Four of the Federal Government's Building Better Regions Fund will be dedicated to helping the communities hardest hit by the drought.
Federal Member for Hume Angus Taylor is urging communities in Hume to take advantage of the fund and get local infrastructure and community-building projects of all sizes off the ground.
"This round will be solely focused on supporting drought affected communities in Hume," Mr Taylor said.
"I encourage all community organisations and local councils with a project ready to commence to apply for funding under the fourth round."
"Many communities in Hume are suffering from the drought and this fund will provide a boost for local projects and help to keep tradies in work and dollars flowing through small businesses," he said.
Hume has already benefited from previous rounds of BBRF with over $5 million already invested across five projects; including $1.25 million towards the upgrade of the Rocky Hill Museum in Goulburn and $2.5 million for the sealing of Wombeyan Caves Road.
Applications for Round 4 open on 14 November 2019 and close on 19 December 2019.
Further information on eligibility and how to apply is available at www.business.gov.au/bbrf.
FEDERAL COALITION INVESTS $BILLIONS IN HUME
MAKING THINGS HAPPEN FOR HUME
Loading Map...