Energy

and drive for portfolio responsibilities: Taylor

Saturday, 13 February 2016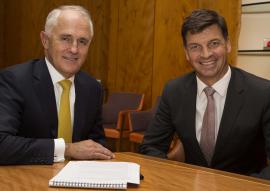 Federal Member for Hume Angus Taylor has pledged to bring energy and drive to his portfolio responsibilities.
Mr Taylor was today (Saturday) announced as the new Assistant Minister to the Prime Minister, with special responsibility for Cities and Digital Transformation.
"This is a great honour – I thank the Prime Minister for trusting me with some exciting and dynamic areas," Mr Taylor said.
"For many years, I have had a strong interest and involvement in digital innovation.
"Government needs to be clever with its services and systems, if we are to deliver better health, education and welfare while containing growth in spending.
"I am also delighted to have responsibility for cities. Our capital cities and regional cities struggle with affordability, amenity and congestion. This must be a priority for the Federal government, as a major investor in transport infrastructure.
"I am particularly delighted with this role given that the new boundaries of the Hume electorate span the fastest growing parts of outer Sydney, as well as the growing regional city of Goulburn. I see first-hand the growing pains of our cities."
In announcing the appointment, Prime Minister Turnbull said the roles given to Mr Taylor were "key, whole of government areas and they will continue to be driven through my leadership and my department into the future."
FEDERAL COALITION INVESTS $BILLIONS IN HUME
MAKING THINGS HAPPEN FOR HUME
Loading Map...