Extra

Roads to Recovery drought funding for Upper Lachlan and Hilltops

Thursday, 05 December 2019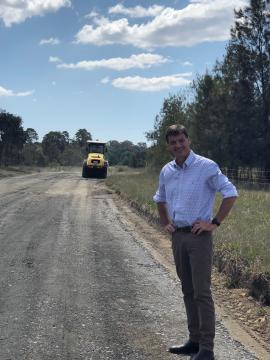 Upper Lachlan Shire Council and Hilltops Council will receive extra funding to develop safer roads in the region under the Australian Government's Roads to Recovery Program (R2R).
Federal Member for Hume Angus Taylor welcomed the additional funding for both councils.
"The extra funding announced will be on top of the Roads to Recovery funding allocated in the May Federal Budget for 2019/20-2023/24," Mr Taylor said.
"Upper Lachlan Shire Council will receive an additional $1,203,048 and Hilltops an additional $1,770,968 to put towards Roads to Recovery projects next year.
"This will take the total Roads to Recovery investment over the next four years to just over $7 million for Upper Lachlan and $10.6 million for Hilltops.
"This program is designed to allow road spending decisions to be based on local needs; both Hilltops and Upper Lachlan councils will nominate projects to make use of the additional funds.
"The extra roads funding will improve local infrastructure, improve safety and stimulate local economic activity, which is what regional communities need in times of drought."
The original Roads to Recovery allocation announced in the Federal Budget for Upper Lachlan Shire Council was $6,015,241 and $8,854,838 for Hilltops Council.
The extra funding is part of the additional $138.9 million that has been allocated to drought-affected communities through the R2R program, and forms part of the Federal Government's recently announced drought response package.
FEDERAL COALITION INVESTS $BILLIONS IN HUME
MAKING THINGS HAPPEN FOR HUME
Loading Map...