Federal

Government funds 144 new aged care places for Goulburn

Monday, 01 April 2019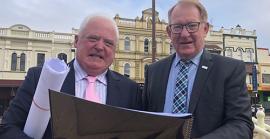 Federal Member for Hume Angus Taylor has announced Federal funding for 144 new aged care places for Goulburn Mulwaree. Mr Taylor said a brand new residential facility would be built at Goulburn, the largest aged care centre in the electorate of Hume, providing around 170 local jobs.
"This is another major investment in Goulburn and the region," Mr Taylor said. "It means a commitment of about $7 million a year in Federal funding to provide these places.
"Members of the public who are interested in finding a residential aged care place, for themselves or a family member, will have to wait until the planning approvals are completed but we'll be keeping the community informed along the way."
Aged care provider Signature Care will build the new $30 million centre.
Signature Care CEO Graeme Croft said the new Goulburn facility was expected to be opening in two years.
"We're in final discussions on site selection and we're looking for about 20,000 metres of land here at Goulburn," Mr Croft said.
"Goulburn is a good regional town with an ageing population so this is a centre designed to meet the community's needs.
"Our focus will be very much on high-care with 24-hour nursing staff. There will be a dementia wing and other high-care wings - all single rooms with ensuites and larger rooms for couples."
Goulburn mayor Bob Kirk welcomed the Federal funding and the private investment in Goulburn.
"As well as the 170 local jobs this facility will create, it is an incredible investment and adds to all that we see occurring around Goulburn right now; there's plenty of activity happening and it is an exciting period for our region," Mr Kirk said.
The 144 places for Goulburn are funded under the Australian Government's Aged Care Approvals Round (ACAR) for 2018-19, which will see a record 13,500 new residential aged care places provided across Australia and $60 million invested in capital works to build new centres or upgrade existing centres.
The Goulburn announcement follows news of eight additional aged care places for Burrowa House at Boorowa and $765,000 in capital works funding to expand Burrowa House.
Caption: Signature Care CEO Graeme Croft outlining plans for a new $30 million aged care facility for Goulburn, with Federal funding confirmed for 144 aged care places at the centre. An announcement on the location of the facility is expected in the next month.
FEDERAL COALITION INVESTS $BILLIONS IN HUME
MAKING THINGS HAPPEN FOR HUME
Loading Map...