Flushed

with excitement - Clifton Park toilet block now open

Tuesday, 18 December 2018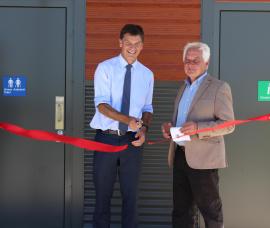 Crookwell will receive a boost for tourists and locals with the official opening today of a new public toilet block in Clifton Park.
The unisex toilet block includes an ambulant toilet for both able bodied and limited mobility visitors and a combined disabled toilet and parent room with an infant change table, along with storage for the Crookwell Junior Cricket Club.
The $115,082 project was funded with $20,000 under Round 3 of the Australian Government's Stronger Communities Programme (SCP), $45,082 from the Veolia Mulwaree Trust, $20,000 from Upper Lachlan Shire Council, $15,000 from the Australian Lions Foundation, $5,000 from the Lions Club of Crookwell and $10,000 from the Crookwell Lions' funding application to the Gullen Range Wind Farm Community Fund.
Member for Hume Angus Taylor said the Australian Government was pleased to support the project under SCP Round 3.
"This is such a great program, providing grants of up to $20,000 to fund small capital projects. We have lots of interest from councils and community groups whenever new rounds open up," Mr Taylor said.
"With around 125,000 people visiting Crookwell in the past year, this new amenities block is going to support increasing tourist numbers, as well as support all the kids and families who use nearby sporting and recreational facilities."
Upper Lachlan Shire Council Mayor John Stafford said the project was a team effort.
"On behalf of Council and the community I would like to thank the Australian Government and Angus Taylor, the Veolia Mulwaree Trust, the Australian Lions Foundation, the Lions Club of Crookwell and the Gullen Range Wind Farm for bringing the project to fruition," Cr Stafford said.
"The inclusion of a toilet park at Clifton Park will encourage people of all ages and abilities to get outdoors, engage in healthy activities and enjoy all this wonderful park has to offer."
Photo caption: The Hon. Angus Taylor MP and Upper Lachlan Shire Mayor Cr. John Stafford cutting the ribbon at the Clifton Park Toilet Block opening.
FEDERAL COALITION INVESTS $BILLIONS IN HUME
MAKING THINGS HAPPEN FOR HUME
Loading Map...