Free

Service Makes July Less Taxing

Friday, 05 July 2019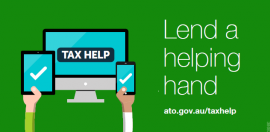 It's now easier for low-income earners to prepare their tax returns. This year the Hume Electoral Office with  Australian Taxation Office (ATO) is providing a free and confidential service – Tax Help.
Federal Member for Hume Angus Taylor says this a great service helping people in Hume on low incomes get their tax right.
"With the $158billion tax cuts package now secure, money can start flowing back into the pockets of hardworking Australians and Hume communities."
Tax Help Volunteers assist eligible low-income earners of around $60,000 or less with simple tax affairs such as to completing an online tax return using myTax. 
These trained volunteers can help with lodging and amending returns. They also provide general information about deduction, funds, franking credits and income offsets.
Tax Help Volunteers can also help create a myGov account, ATO link and myTax profile.
Tax Help is available now until October 2019. 
Call Hume Electorate Office (Camden) 02 4658 7188 to check eligibility and make an appointment.
FEDERAL COALITION INVESTS $BILLIONS IN HUME
MAKING THINGS HAPPEN FOR HUME
Loading Map...