Infrastructure

investment tops $80 million in Goulburn Mulwaree

Wednesday, 30 January 2019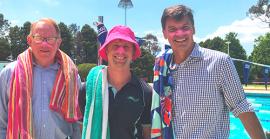 Federal Member for Hume Angus Taylor will be fighting for $10 million in Federal funding for a major redevelopment of the Goulburn Aquatic Centre in 2019, as part of ongoing Coalition infrastructure investment that has already topped $80 million across Goulburn Mulwaree.
Mr Taylor said the Coalition Government was investing heavily in the growth corridor around Goulburn, to create jobs and economic growth, to encourage small businesses to expand and new businesses to start up, as well as to promote tourism to the region.
"Council is well advanced with project investigation and planning for the Aquatic Centre redevelopment," Mr Taylor said.
"Stage 1 of the redevelopment, which will see expansion of the indoor aquatic facilities, is well-targeted to meet community needs in our cool climate and to maximise participation.
"The project is expected to generate well in excess of 400 full time jobs and have significant flow-on economic benefits for the Goulburn region."
Mr Taylor said Federal funding for capital works in the Goulburn Mulwaree region – including major capital works projects, bridge and road upgrades, mobile phone towers, the NBN rollout, Goulburn Headspace, the Country University Centre, tourism facilities, smaller community capital works, as well as recurrent Federal roads funding – had topped $80 million over the past five years.
NBN rollout                                                                   over $235 mill for Hume rollout
(Fixed wireless towers, Fixed line rollout, Satellite customers connected)
Estimated $25 million for nbn fibre rollout in Gbn area
Mobile Black Spot Program for Goulburn Mulwaree
Mobile Black Spot Program (12 mobile phone towers for Hume, including Mayfield, Golspie, Windellama and Tarlo towers in the Goulburn Mulwaree region)
$1.79 mill (Total investment by Federal Government in Hume under MBSP)
Major infrastructure projects that have been delivered or are underway for Goulburn Mulwaree include:
Lansdowne Bridge                                         $3.25 mill
Goulburn Wastewater Treatment Plant          $10 mill
Rocky Hill Museum extension                        $1.25 mill
Goulburn Performing Arts Centre                  $1.0 mill
Nadgigomar Creek Bridge replacement        $0.71 mill
Kippilaw Bridge                                              $0.84 mill
Komungla Bridge Replacement                     $1.52 mill
Goulburn Country University Centre              $830,000
Wollondilly Walking Trail extension                $937,000
Seiffert Oval upgrade                                     $415,000
Goulburn Headspace                                     $857,000 (per annum)
Bourke St & Verner St, Goulburn                   $116,635
Sloane St, & Finlay Rd to Braidwood Rd       $689,000
Recurrent Federal funding for Goulburn Mulwaree
Financial Assistance Grant program              $24.96 mill (2014-15 to 2018-19)
Roads to Recovery funding                            $6,967,259 mill (2014-15 to 2018-19)
       $4,299,534 mill (2019-20 to 2023-24)
Road Black Spot Program
Braidwood Road at Tirrannaville                                $314,293
Bungendore Rd west of Collector Rd                         $569,373
Faithfull St & Clifford St, Goulburn                             $250,000
Highland Way, Tallong                                                $695,000
Hume Highway, Yarra                                                $456,387
Hume Highway, Towrang                                           $127, 347
Nicholson St & Albert St, Goulburn                            $19,200
Stronger Communities Program
Goulburn children's playground                                  $20,000
Equipment to establish robotics league Goulburn      $13,560
Taralga Golf Club outdoor entertainment area           $5,734
Southern Life Education Centre upgrade                   $5,148
Goulburn Motorycle Club new clubhouse, canteen   $8,475
Goulburn Tennis Club fencing                                    $5,000
Goulburn Sporting Hall of Fame relocation                $13,582
Goulburn Hockey walkway and seating                     $8,421
Bungonia Community Hall water tank                        $5,000
High Jump mats Goulburn Little Athletics                  $3,320
Caption: Federal Member for Hume Angus Taylor with Goulburn Mulwaree Mayor Bob Kirk and Goulburn Aquatic Centre Manager Peter Raines. Council is seeking $10 million from the Federal Government toward a major re-development of the aquatic centre facilities.
FEDERAL COALITION INVESTS $BILLIONS IN HUME
MAKING THINGS HAPPEN FOR HUME
Loading Map...