Jobs

booming in Camden, unemployment falling

Thursday, 04 October 2018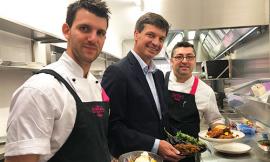 Unemployment has fallen to 1.5% in Camden and new jobs are opening up. Federal Member for Hume Angus Taylor said in the past 12 months Camden's unemployment had fallen from 2.2% (June quarter 2017) to 1.5% (June quarter 2018).
Across the entire Camden LGA, unemployment has fallen from 2.7% to 2.0% in the past 12 months.
Badgerys Creek unemployment has dropped from 2.9% to 2.6% in 12 months. Elderslie's unemployment has dropped from 3% to 1.8%. Douglas Park and Appin's combined unemployment has dropped from 2.1% to 1.5% in 12 months, Mount Annan has dropped from 3.1% to 2.0%, Cobbitty's unemployment is at 2.4% (June 2018). 
Mr Taylor said the right policy settings were in place, with the Australian economy creating on average more than 800 new jobs per day over the past 12 months.
"Full-time employment has increased strongly. Female employment has increased. While the labour force figures can jump around from month to month, the results over the past year continue to reflect a strong labour market."
Mr Taylor met staff in their first week of work at Camden's new Sydneysiders restaurant, on the corner of Argyle and Murray Streets. Sydneysiders manager Kaitlyn Daley will be employing a team of about 30 people.
"We're up from Melbourne and just love the village feel of Camden. It's both country and city. We want to help create an individual food culture in Camden," Ms Daley said.
Sydneysiders will be opening late October, employing 10 chefs, as well as 20 front of house staff.
Mr Taylor said there was still more work to be done in parts of Hume where employment opportunities were not as readily available.
In the Hilltops LGA, including Boorowa, the unemployment rate has dropped only marginally in the past nine months from 6.8% to 6.7%.
"This area has my attention and I will be working closely with the community on initiatives to bring the jobless rate down," Mr Taylor said.
Caption: Angus Taylor with head chef Amilio (right) and sous chef Sebastian (left), two of 30 staff employed at Camden's new Sydneysiders restaurant, which opens end of the month.
FEDERAL COALITION INVESTS $BILLIONS IN HUME
MAKING THINGS HAPPEN FOR HUME
Loading Map...