Mobile

Black Spot Program Round 4 open

Thursday, 18 October 2018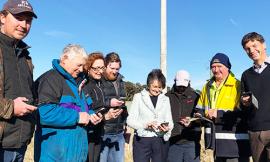 Federal Member for Hume Angus Taylor will work with mobile service operators on new funding applications to fix Hume mobile phone black spots.
Round 4 of the Federal Government's Mobile Black Spot Program has now opened and applications are being received until 5pm on 10 December 2018.
Applications will be accepted from mobile service operators who are prepared to co-fund proposals.
Proposals must also demonstrate a benefit to Public Interest Premises such as economic centres, emergency service facilities, local government facilities, health and educational facilities, community and not-for-profit organisations.  
Mr Taylor said he would work to secure a share for Hume of the $25 million being committed by the Federal Government to the latest program round.
"I know several councils in Hume are lobbying for further funding and I will support any and all worthy proposals," Mr Taylor said.
"I will be working with the telcos - with the major companies as well as any smaller service providers - to look at proposals to fix further Hume black spots."
Mr Taylor said in less than four years he had managed to secure funding for 21 mobile phone towers across Hume, with the most recent being switched on at Tarlo near Goulburn.
He said further local solutions may include small cells or co-location of equipment on existing towers.
The Mobile Black Spot Program is the most significant one-time increase in mobile network coverage to regional and remote Australia ever delivered by a single public funding program.
It will deliver 867 base stations across regional Australia.
For more information visit: www.communications.gov.au/mbsp
Caption: Angus Taylor, Pru Goward, Telstra representatives and members of the Tarlo community at the switching on of Hume's newest mobile phone tower at Tarlo in August 2018.
FEDERAL INVESTMENT IN HUME TOPS $10 BILLION
MAKING THINGS HAPPEN FOR HUME
Loading Map...