Mobile

Black Spot Program Round 5 now open

Tuesday, 16 April 2019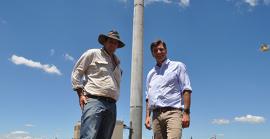 "The Government is dedicating $80 million to Round 5. We recently secured funding for six new small cell base stations for Hume so I'll be again pushing to improve coverage in Hume.
"There's a strong focus in this next round on better coverage in regional areas, in particular for important community centres, such as medical facilities or schools.
"I've been contacted by a number of community groups since Round 4 base stations were announced a few weeks ago and I strongly encourage those groups to give it another go in this round.
"Minister Bridget McKenzie has made it clear that when local communities and the local council engage with Mobile Network Operators, like Telstra and Optus, it increases the likelihood that a base station application will be put forward in an area.
"We've had good wins to date under this program, and I'll be keen to support further applications."
Angus Taylor MP, Federal Member for Hume
Round 5 applications are open until 26 July 2019.
The Mobile Black Spot Program is the most significant one-time increase in mobile network coverage to regional Australia ever delivered by a single public funding program.
It will deliver 867 base stations across regional Australia. 17 base stations have been built in Hume.
For more information, please visit: www.communications.gov.au/mbsp
FEDERAL COALITION INVESTS $BILLIONS IN HUME
MAKING THINGS HAPPEN FOR HUME
Loading Map...