Mobile

phone tower switches on at Tarlo - 10th for Hume

Friday, 10 August 2018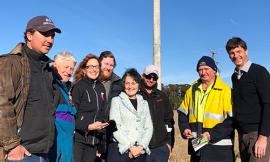 Federal Member for Hume Angus Taylor has welcomed the switching on of Hume's10th government-funded mobile phone tower near Tarlo, jointly funded by the federal government, state government and Telstra.
Mr Taylor joined Member for Goulburn Pru Goward, Telstra representatives and Tarlo area residents at the phone tower site on Friday.
Resident Geoff Ryan: "It's 200% better than it has been. And it was a black, black hole for a lot of years."
Resident Jack Earl: "I now have reception from the Tarlo bridge in to Goulburn, as well as out on the range. It covers about 80% of my place." 
Resident Kevin Matangi: "As president of the Tarlo Rural Fire Brigade, it's going to make it a lot easier to contact fire fighters, for crewing our trucks."
Mr Taylor said an additional two towers would be switched on in the north of Hume at Buxton and Nattai.
"I am actively supporting funding applications from local councils for more mobile towers under Round 4 of the Mobile Blackspot program. There will be more details about the re-opening of the Blackspot database in the next couple of weeks."
Member for Goulburn Pru Goward said the tower would make a huge difference to the lives of people around Tarlo.
"It will improve their businesses, their social connections and their safety. Finally they too can ring triple zero," Ms Goward said.
Telstra Area General Manager Chris Taylor said the new mobile base station was part of $20 million worth of investment by Telstra in the Southern Tablelands and South Coast region this year.
"Tarlo is among more than 650 sites being delivered by Telstra across the nation under the Federal Government's Mobile Black Spot Program."
Local antenna supplier Dave Edworthy said because of the extensive 4G signal, he could now solve most complaints across the district about mobile phone and internet connectivity.
"There is a lack of knowledge about how to access and benefit from the 4G network," Mr Edworthy said.
"Everything is going to go wireless. In two or three years, all you will need from anywhere in this district is a big antenna. You may not pick up a signal from the closest tower, but you'll pick one up from somewhere, even if it's 40 to 50 kilometres away."
The Federal Coalition is on track to deliver 867 mobile base stations across Australia by June 2019. Under Labor there was no funding for mobile base stations.
Caption: (from left) Tarlo residents Jack Earl and Kevin Matangi, Telstra representatives Ann Jakle and Matt Luff, Member for Goulburn Pru Goward, Tarlo area residents Geoff and Chris Ryan and Member for Hume Angus Taylor welcoming the switch-on of Hume's 10th Federally-funded mobile phone tower at Tarlo.
FEDERAL COALITION INVESTS $BILLIONS IN HUME
MAKING THINGS HAPPEN FOR HUME
Loading Map...