NBN

transmission tower switch-on to benefit 2000+ premises

Monday, 12 December 2016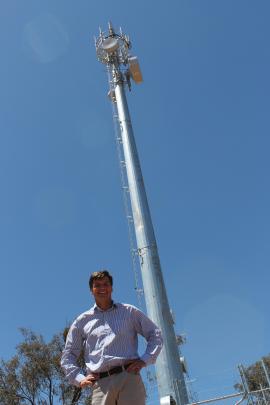 An important milestone in Hume's nbn fixed wireless network rollout has been reached, with a key transmission tower in the Southern Highlands going live this week.
Federal Member for Hume Angus Taylor said the Bowral facility would service 280 nearby premises – and also provide the wireless signal to towers in Burrawang, Robertson, Exeter, Berrima, Bundanoon North and Wingello.
"The Bowral tower on Mt Gibraltar is a fibre hub and therefore a critical link in the rollout of the nbn in Hume," Mr Taylor said.
"It will provide the signal for fast and reliable fixed wireless broadband for 2056 homes and businesses 'downstream', particularly those in the southern villages of the Highlands."
"We're at an exciting phase in the fixed wireless rollout in the Highlands and I look forward to those towers receiving the signal from the Bowral facility coming online next year."
The towers at Burrawang, Robertson, Exeter, Berrima, Bundanoon North and Wingello will service a combined 2056 premises.
They are expected to come online by the middle of next year (subject to change as construction planning is finalised).
"Communities in the southern villages have been telling me they want fast and reliable internet and I am pleased to say it's on its way," Mr Taylor said.
"To view the current coverage maps, and sign up for updates when their tower reaches construction and switch on, I'd encourage residents to sign up for updates on nbn's website here: http://www.nbnco.com.au/learn-about-the-nbn/rollout-map.html."
The nbn fixed wireless network is designed to offer retail service providers with wholesale access speeds of up to 50Mbps for downloads and 20Mbps for uploads.
It uses radio signals to transmit signals to and from a small antenna fixed on the outside of a home or business, which is pointed directly towards the nbn fixed wireless facility.
As at 25 November 2016, there were 30,587 homes and businesses ready for service in Hume and of these, 7,462 had an active nbn connection.
A further 34,134 homes and businesses are currently under construction in Hume.
"Under the Coalition, the nbn is connecting more active users every month than Labor connected during its entire time in Government (close to 90,000 new active services over the past month, compared to 51,000 at the time of the 2013 election)," Mr Taylor said.
"Today, nearly two thirds of all premises are in design, under construction or ready for service and 70 per cent of premises covered by the nbn today are in regional and non-metro areas."
FEDERAL COALITION INVESTS $BILLIONS IN HUME
MAKING THINGS HAPPEN FOR HUME
Loading Map...