New

businesses open in Bundanoon, Hill Top and Colo Vale

Wednesday, 06 March 2019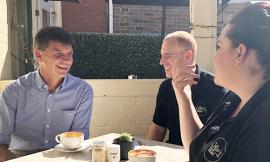 Federal Member for Hume Angus Taylor has welcomed news that 26 new businesses have opened in Hill Top, Colo Vale and Bundanoon in 12 months.
More than 1000 new businesses have opened in the electorate of Hume in the 2017-18 financial year.
Visiting newly opened Potter's Pantry at Bundanoon on the weekend, Mr Taylor congratulated owners Sarah and James Potter on setting up locally.
"It's a big undertaking to start your own business and I want to congratulate Sarah and James on doing so well," Mr Taylor said.
"I'll be working with Wingecarribee Shire Council to encourage council to establish more events and activities that pull in tourists to this beautiful part of the world, to support businesses like Potter's Pantry."
Sarah Potter said they relied heavily on family for operational support.
"I have family here in Bundanoon and that has been a real help. My parents are also here most weekends, washing the dishes; it's very much a family affair," Ms Potter said.
"For us, we've had a lot of traffic through the door since last October when we opened up – a lot of tourists, a lot of locals. The tourists really come in on the weekend and we need some more events like the fortnightly markets in Bundanoon to keep it all flowing."
According to latest figures from the Department of Industry, Innovation and Science, the areas of Bundanoon, Hill Top and Colo Vale have seen 169 new businesses open in the past five years.
In 2013-14 there were 386 active businesses in Hill Top (130), Colo Vale (82) and Bundanoon (174).
In 2017-18 there were 555 active businesses in Hill Top (169), Colo Vale (150) and Bundanoon (236).
In 2017-18 alone, 26 new businesses registered with the Australian Business Register in Bundanoon (13 new businesses), Hill Top (8) and Colo Vale (5).
Caption: Angus Taylor with Sarah and James Potter at newly opened cafe Potter's Pantry at Bundanoon.
FEDERAL COALITION INVESTS $BILLIONS IN HUME
MAKING THINGS HAPPEN FOR HUME
Loading Map...