New

businesses open in Upper Lachlan Shire

Wednesday, 06 March 2019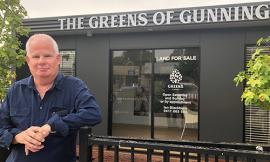 Federal Member for Hume Angus Taylor has welcomed news that agricultural businesses have doubled in parts of the Upper Lachlan Shire, in the past five years.
More than 1000 new businesses have opened in the electorate of Hume in the 2017-18 financial year.
Crookwell is in the top 10 centres in Hume for the highest number of new businesses opening, with 59 new businesses registered in the past four years.
In Gunning, agricultural businesses have doubled in number, from 42 active businesses in 2013-14, to 81 active businesses in 2017-18.*
Mr Taylor congratulated developers of a new housing estate The Greens of Gunning.
"Momentum can build from this," Mr Taylor said. "It's exciting to see this optimism in an area which is so convenient to Canberra, Goulburn and Yass."
Mr Taylor said the Government was strongly supporting small and medium businesses in regional areas through reduced company tax, increasing the instant asset write-off scheme, a new securitisation fund for loans to small business, new subsidies for regional employers to take on an apprentice, as well as free trade agreements.
Greens of Gunning spokesman Ian Blackburn said sales of a new housing estate in the village of Gunning were going well.
"There are 45 boutique blocks of land, 1000m2 in size from $200,000, with all town services," Mr Blackburn said.
"It's an easy commute to Canberra, so it's becoming a lot more attractive to buy here. 40% of my marketplace comes from Canberra."
According to latest figures from the Department of Industry, Innovation and Science, agricultural businesses in Taralga have jumped from a stagnant 45 in 2008-9 to 68 in 2017-18.*
In Dalton, agricultural business numbers were stagnant at 20 from 2008-9 through to 2013-14. In 2014-15 they jumped to 31 and there are now 34 active agricultural businesses in Dalton.
* Dept of Industry, Innovation and Science Business Report 2017-18
Caption: Angus Taylor is congratulating new Upper Lachlan businesses including developers The Greens of Gunning who have recently opened a shopfront in Yass Street, Gunning.
FEDERAL COALITION INVESTS $BILLIONS IN HUME
MAKING THINGS HAPPEN FOR HUME
Loading Map...