New

funding for bridges and heavy vehicle safety

Tuesday, 17 March 2020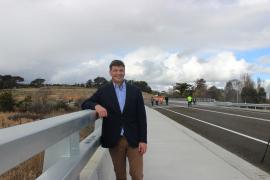 Hume could soon benefit from better bridges and freight roads with applications now open for Round 5 of the Federal Liberal and Nationals Government's Bridges Renewal Program (BRP) and Round 7 of the Heavy Vehicle Safety and Productivity Program (HVSPP).
Federal Member for Angus Taylor said Local Councils and State and Territory Governments were encouraged to apply for their share of $300 million of funding under the two programs.
"Efficient freight networks are critical to the national economy and this funding forms part of the Federal Government's commitment to keeping heavy vehicle drivers safe and improving our road network," Mr Taylor said.
"Under these programs, proponents have the opportunity to seek funding of up to 50 per cent of project costs for up to five projects."
"Hume has benefited enormously from previous rounds of both programs, with completed projects including the replacement of the Lansdowne Bridge in Goulburn and two heavy vehicle acceleration lanes on the busy Picton Road."
For application forms and details about the programs visit:
www.infrastructure.gov.au/bridges
www.infrastructure.gov.au/hvspp
The Federal Government is providing $640 million to the Bridges Renewal Program from 2015-16 to 2022-23, with an on-going commitment of $85 million each year following and $508 million to the Heavy Vehicle Safety and Productivity Program (HVSPP) from 2013-14 to 2022-23 financial year.
This forms part of the Government's nation-building $100 billion pipeline of infrastructure projects busting congestion and getting Australians home safely.
FEDERAL COALITION INVESTS $BILLIONS IN HUME
MAKING THINGS HAPPEN FOR HUME
Loading Map...