New

grants open to preserve heritage sites

Wednesday, 11 November 2020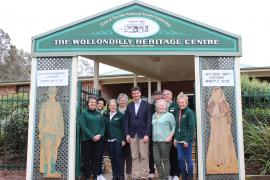 Local organisations in Hume can now apply for funding to help protect Australia's heritage under the Federal Government's Australian Heritage Grants Program.
The $5.3 million program will protect and preserve national and world heritage sites and promote local tourism.
Federal Member for Hume Angus Taylor said this round would place a particular focus on conserving privately-owned heritage sites that may have suffered significant visitor downturn due to COVID-19.
"Heritage site owners, managers and support organisations are invited to apply for grants of between $25,000 and $400,000 to conserve national and world heritage listed places. 
"Funding can be used for a range of activities to protect and strengthen the natural, historic and cultural values of a site, or to enhance visitor experiences that encourage people to share our national heritage treasures."
The new round of grants complements the $33.5 million package recently announced to support heritage infrastructure projects as part of the Australian Government's $1 billion COVID Relief and Recovery Fund.
Applications for the 2020-21 grants round will close on 7 January 2021. To find out more and apply, visit https://www.business.gov.au/assistance/australian-heritage-grants.
FEDERAL COALITION INVESTS $BILLIONS IN HUME
MAKING THINGS HAPPEN FOR HUME
Loading Map...