New

location for Taylor electorate offices in Camden, Goulburn

Thursday, 29 November 2018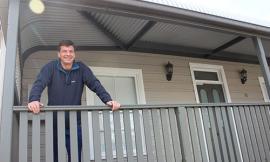 Federal Member for Hume Angus Taylor has opened new offices in Goulburn and Camden. The Camden electorate office has moved to 18 Hill Street in Camden and has a new contact phone number – (02) 4658 7188.
The office was previously located at the corner of Argyle and Murray Streets, near the showground.   
"The new Camden office is in a great spot, in leafy Hill Street. It's an easy walk from nearby parking. I'd love you to drop in and say hello," Mr Taylor said.
He said the previous Camden office phone number had been disconnected so he was spreading the word about the new phone number.
"Our new Camden office has a lot more room, and is well set up for private meetings and group meetings. I look forward to seeing many constituents there in coming months.
"We still have a bit of work to do out the front to install a ramp. This will be finished early in the new year, but there's currently easy access straight to the front door."
The Goulburn electorate office has moved next door to its previous location, and is still located in the former AMP building in Auburn Street.
The Goulburn office is now located on the Ground Floor at 189 Auburn Street in Goulburn. The phone number is still (02) 4822 2277.
"We had to move the Goulburn office because structural changes were not going to be in keeping with the heritage features of the old office.
"We're delighted that we were able to move in right next door, still in the same beautiful old building."
Mr Taylor encouraged the public to keep in touch, by dropping in to the new offices, phoning or sending an email to Angus.Taylor.MP@aph.gov.au
FEDERAL COALITION INVESTS $BILLIONS IN HUME
MAKING THINGS HAPPEN FOR HUME
Loading Map...