Next

round of Mobile Black Spot Program now open

Thursday, 19 November 2020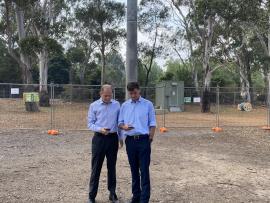 Federal Member for Hume Angus Taylor has announced Round 5A of the $380 million Mobile Black Spot Program is now open for applications.

"This new round of the Mobile Black Spot Program will have a specific focus on improving mobile coverage along major transport corridors and in disaster-prone regions," Mr Taylor said.

"Improving coverage in natural disaster-prone areas is critical for keeping people connected during times of emergency, whether it's to loved ones or emergency services."
Mr Taylor is encouraging local communities and councils to identify their priorities for improved coverage and to work with the mobile network operators and infrastructure providers in support of applications for funding for those areas.
Applications for Round 5A opened on 18 November 2020 and will close on 10 February 2021. 
For more information about the Mobile Black Spot Program and the Round 5A process, visit www.communications.gov.au/MBSP.
FEDERAL COALITION INVESTS $BILLIONS IN HUME
MAKING THINGS HAPPEN FOR HUME
Loading Map...