Outpouring

of support for farmers

Tuesday, 07 August 2018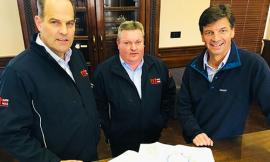 Federal Member for Hume Angus Taylor has congratulated community groups and the public on the outpouring of support for farmers. Countless fundraising efforts, donations and fodder drives are being organised through schools, community associations and public events in Hume.
Mr Taylor said he was coordinating road trains of hay from Western Australia for needy farmers across regional New South Wales including the Wollondilly and Camden areas.
"There has been a tremendous show of solidarity for our farmers, which is lifting them through this tough time," Mr Taylor said.
"What they really need is fodder and money for fodder, so I applaud the Prime Minister's announcements on the weekend."
The Coalition Government will provide additional payments to Farm Household Allowance (FHA) recipients.
Couples in a household will receive up to an additional $12,000 and single households will receive up to an additional $7,200, to be provided over two lump sum payments.
The FHA income asset threshold will be lifted from $2.6 million to $5 million net, effective from 1 November. An additional $5 million has been committed to the Rural Financial Counselling Service.
Mr Taylor, who runs a sheep and cattle grazing property near Goulburn and jointly owns farming operations across south eastern NSW, is expecting 20 road trains of hay to arrive from Western Australia in the coming fortnight.
"It's about 1000 tonnes of hay – or about 2000 bales - that's being donated to farmers, including those who need help around the Wollondilly and Camden regions. This won't even touch the sides, but it's a way of saying 'we're with you and we're going to help you get through."
The hay is being donated by Rapid Relief Team who are also working with IGA and Foodworks to provide food coupons for stricken farmers and their families.
FEDERAL COALITION INVESTS $BILLIONS IN HUME
MAKING THINGS HAPPEN FOR HUME
Loading Map...