Six

new mobile base stations for Hume

Monday, 18 March 2019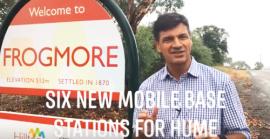 Federal Member for Hume Angus Taylor has announced six new locations in Hume will receive boosted mobile phone coverage. Under Round 4 of the Federal Government's Mobile Black Spot Program, a Telstra small cell base station will be installed at the following locations in Hume:
Wattle Place, Bungonia, south of Goulburn
Frogmore Exchange
Reids Flat
Tuena Exchange
Woodhouselee Road, Wayo
Wombeyan Caves campground
Mr Taylor said Hume had once again done very well, receiving funding for the second highest number of base stations in NSW under this round.
"I'm thrilled that residents and businesses in these locations will soon be able to enjoy all the benefits that improved mobile connectivity brings," Mr Taylor said.
"The partnership with Telstra will see a total commitment of $769,400 across the electorate of Hume under this latest round. While some areas have missed out across the Upper Lachlan, I have been lobbying for an outcome for these successful locations for many months now."
Mr Taylor said public interest premises such as tourist spots, including the Wombeyan Caves campground, were prioritised in the round. 
Hume has received funding for a total of 17 mobile base stations under the four rounds of the program. The announcement of 180 successful Round 4 base stations means a total of 1047 base stations are being delivered under the Federal Coalition's Mobile Black Spot Program.
Mr Taylor said small cell base stations would typically deliver 4G mobile coverage across an area of a couple of kilometres.
Round 4 base stations are expected to roll out shortly with Mr Taylor urging local councils to fast-track development applications for the small cells to be installed.
More information about the program is available at: communications.gov.au/mbsp
FEDERAL COALITION INVESTS $BILLIONS IN HUME
MAKING THINGS HAPPEN FOR HUME
Loading Map...