St

Mary's School Crookwell to embark on major building program with Federal funding

Tuesday, 18 December 2018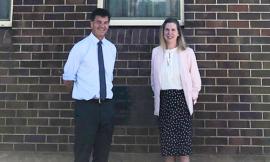 St Mary's School at Crookwell will undertake a major building program in the new year after receiving a Federal funding grant of $417,000. Federal Member for Hume Angus Taylor visited St Mary's this week to share the news, with the funding to be made available under the Capital Grants Program.
"Smaller schools like St Mary's are playing a central role in our regional communities, well beyond their primary task of educating children," Mr Taylor said.
"I'm delighted to be able to announce this funding boost, for a building and rebuilding program to get underway in the new year."
Mr Taylor said the $600,000 project would include the refurbishment of the school's classrooms, installation of glass sliding doors opening onto new large breakout learning spaces, the building of a covered walkway along the front of the school to the front gate, and a ramp to the school entrance.
School principal Sarah Lowe said the work would commence in 2019.
"We're excited to hear that we've received a Capital Block Grant for these works. The improvements to the school will ensure that all students at St Mary's will have a learning environment that best suits their individual needs and provides for student-centred learning."
Total project cost is $596,861, with the Federal Government contributing $417,803 and a non-government funding contribution of $179,058.
Caption: Angus Taylor with St Mary's School principal Sarah Lowe announcing Federal funding for a $600,000 building program at the school next year.
FEDERAL COALITION INVESTS $BILLIONS IN HUME
MAKING THINGS HAPPEN FOR HUME
Loading Map...