Switch

on of Bundanoon mobile phone tower

Friday, 20 December 2019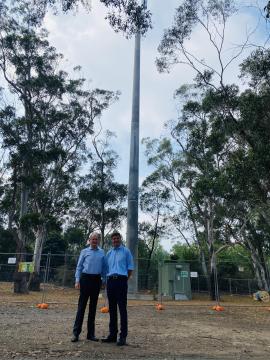 Residents of Bundanoon are now benefiting from new and improved coverage on Australia's largest mobile network. 
Federal Member for Hume Angus Taylor welcomed the announcement and said the new Telstra mobile tower will provide 4G coverage for the town.
"As we all know, connectivity is critical for this area and I'm delighted that the new mobile tower at Bundanoon is up and running after many years of lobbying," Mr Taylor said.
"Since the Coalition came to Government we have dramatically improved mobile phone coverage across a vast area of Hume and I am delighted to be able to add Bundanoon to that list. 
"We're also rolling out NBN towers right across this region to improve connectivity. New towers are up and running at Bundanoon North, Wingello, Exeter, Balmoral West, Hill Top South and at Marulan. 
"Fixed wireless towers are also in the planning stages for Tallong South, Paddy's River and Moss Vale," Mr Taylor said.
Mr Taylor said he will continue to push for mobile service improvements for a number of Hume communities, including Exeter.
FEDERAL COALITION INVESTS $BILLIONS IN HUME
MAKING THINGS HAPPEN FOR HUME
Loading Map...