Tackling

Narellan street crime: $565,000 Safer Communities windfall for Hume

Friday, 22 June 2018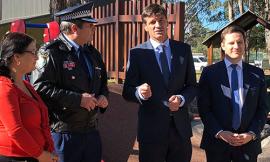 Narellan's Urban Forest park and playground precinct will receive new lighting and safety design works as part of a half-million-dollar funding windfall to improve public safety in the Hume electorate.
Camden Council will receive $258,500 under Round 2 of the Federal Coalition's $40 million Safer Communities Fund to make the improvements.
Minister for Law Enforcement and Federal Member for Hume Angus Taylor said changes were needed to get on top of the street crime.
"With population growth in the area, the park is being used inappropriately at night – with police now aware of malicious damage and drug dealing happening," Mr Taylor said.
"With no lighting at all in the park and playground, I'm delighted to be announcing funding today to fix that and to reduce the anti-social behaviour and crime."
Assistant Minister for Home Affairs Alex Hawke, who has responsibility for the Safer Communities program, joined Mr Taylor, along with council and police representatives, at a funding announcement on Friday.
"Three projects in Hume - in Narellan, Picton and Goulburn – will share funding totalling $565,000 in this current round of the program," Assistant Minister Hawke said.
"This is a big priority for the Coalition – putting money into projects that make our streets, communities and our nation safer."
Camden Police Crime Manager, Detective Chief Inspector Jayne Doherty, said large groups of young people were often congregating in the Narellan Urban Forest precinct.
"They move out of the well-lit shopping centre to the anonymity of the parklands where they commit minor damage to facilities in the area and encourage each other to fight. We have also had instances of the area being used to meet up for street level drug supply," she said.
Camden Mayor Lara Symkowiak welcomed the significant investment in the community.
"It is the ambition of Council to provide high quality, recreational facilities that cater to the needs of our growing population and provide an enjoyable experience for everyone. This funding will help us to improve the visibility of and discourage anti-social behaviour in one of our central township parks," Cr Symkowiak said.
Council expects to complete the safety works over the next two years – which, as well as lighting, will include landscape design and plantings to enhance natural surveillance in the area.
Safer Communities Round Two funding for Hume:
Camden Council will receive up to $258,500 for lighting and associated safety design works in the Narellan Urban Forest
Wollondilly Shire Council will receive up to $223,300 for Walton Street public lighting
Goulburn Mulwaree Council will receive up to $84,233 for lighting in Belmore Park
The Coalition Government has allocated a further $30 million in the 2018-19 Budget to Round 3 of the Safer Communities Fund, which is expected to open in coming months.
Information on how to apply for funding will be available at https://www.business.gov.au/assistance/safer-communities-fund
FEDERAL COALITION INVESTS $BILLIONS IN HUME
MAKING THINGS HAPPEN FOR HUME
Loading Map...