Taylor,

Goward push for funding under Round 4 Mobile Black Spot Program

Tuesday, 11 December 2018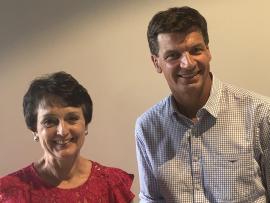 Federal Member for Hume Angus Taylor and NSW Member for Goulburn Pru Goward are lobbying for funding under Round 4 of the Federal Government's Mobile Black Spot Program (MBSP). Applications for funding under the program's latest round have been extended for a further month until 10 January 2019.
With strong support also from the Upper Lachlan Shire Council, Mr Taylor said he was pushing for service improvements for a number of communities.
"There are four locations on our shortlist so far - Grabben Gullen, Bigga, Curraweela and Bannister (Range Road)," Mr Taylor said.
"In each of these localities the lack of mobile coverage has been an issue in the community for many years and during my time as local member I have advocated on their behalf on many occasions for a mobile phone tower."
Mr Taylor said in less than four years, he had secured funding for 21 towers in Hume under the Coalition's Mobile Black Spot Program.
He said he was looking forward to meeting residents around the Buxton area this week, where a Federally-funded mobile phone tower had been switched on in recent weeks.
Member for Goulburn Pru Goward said the extension of time for the current round was an opportunity for further communities to come forward. Ms Goward said she was also supporting the shortlist of Upper Lachlan communities.
"My constituents have lobbied hard for communications investment of this kind, particularly due to the potential benefits to tourism, local economies and emergency services in times of need," Ms Goward said.
FEDERAL COALITION INVESTS $BILLIONS IN HUME
MAKING THINGS HAPPEN FOR HUME
Loading Map...