Telstra

expands Gunning 4G after lobbying from Taylor

Tuesday, 30 October 2018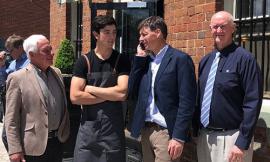 Federal Member for Hume Angus Taylor says a new 4G Telstra small cell for the village of Gunning is a 'fantastic result'.
Mr Taylor said he had been lobbying for years for Gunning's mobile phone and internet connectivity to be upgraded.
"This is great news for residents in Gunning because there's now a strong Telstra 4G signal in the village for mobile calls and internet connections," Mr Taylor said.
Baileys Garage owner Craig Southwell said he could now make calls on the mobile from his workshop.
"It's been a while coming; we've had pretty poor coverage for a long time. But it's good now," Mr Southwell said.
Telstra Acting General Manager ACT/ Southern NSW Ann Jakle said small cell technology was benefiting regional communities like Gunning.
"The introduction of fast 4G data services means residents have access to high-speed mobile data, allowing them to use a range of technologies and services, whether it's fast internet browsing, video streaming, social media or a mobile office.
"Telstra is proud to be able to invest in small cells to deliver 4G data coverage to small regional towns," Ms Jakle said.
Upper Lachlan Shire Mayor John Stafford and General Manager John Bell met with Angus Taylor to welcome the new 4G service for Gunning and to discuss the need for improved connectivity for other local communities.
Upper Lachlan Shire General Manager John Bell: "It is wonderful that the township of Gunning now has access to more reliable mobile coverage and improved internet connectivity via mobile devices.
"Improved technology is a game-changer for existing residents and businesses and will help make Gunning an even more attractive place to live, work, visit and invest into the future."
Mr Taylor said he was pushing for more funding for the Upper Lachlan under Round 4 of the Federal Coalition's Mobile Black Spot Program.
Caption: Testing out the new 4G mobile coverage - Federal Member for Hume Angus Taylor with Upper Lachlan Shire mayor John Stafford, General Manager John Bell and Gunning resident and Merino Café staff member Chris Young.
FEDERAL COALITION INVESTS $BILLIONS IN HUME
MAKING THINGS HAPPEN FOR HUME
Loading Map...