Values

of middle Australia are the values of small business

Thursday, 09 May 2019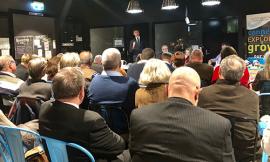 Federal Member for Hume Angus Taylor has attributed the success of local small businesses to a boom in construction across Hume.  Angus video >>
Speaking at a Hume candidates' forum in Goulburn last night, Mr Taylor said Hume had one of the lowest levels of unemployment in Australia because of the prosperity and opportunity created through successful small businesses.
"I'm a proud member of this community. I'm proud to live and work here and I'm extremely proud of the achievements of this region in recent years," Mr Taylor said.
"We've seen a wave of businesses opening up and growing. The result is that we have record unemployment and strong jobs growth.
"To support this growth, we're also seeing record investment in infrastructure across Hume – roads, bridges, water, telecommunications and community facilities, with more to come.
"Not surprisingly, with this growth, the construction sector is booming, and we want to see that continue, with 58% growth in construction businesses since the Coalition came to power.
"Central to our commitment to small business in this region is a recognition that the values of middle Australia, are the values of small business - values of aspiration, self-reliance and personal responsibility.
"And small business has a right to ask government to give a fair go to those who have a go.
"That means less tax, less red tape, and less government, not more.
"That's why we're cutting company and personal income tax rates
"That means $2000 more in the wallet of a family and it means nearly all Australians can expect a tax rate of no more than 30% in the future.
"It's why we've extended the instant asset write off up to $30,000 – to encourage more investment in productive equipment and the employment that drives.
"And it's the growth and success of business like yours across Australia, and the tax you pay, that has made it possible to provide record levels of investment in health, education and disability services in this region.
"But I tell you what we're not going to do.
"We're not going to impose new taxes on savings, on businesses, on capital gains, on negative gearing, on cars, on houses, on energy and on family trusts.
"That is exactly what Bill Shorten is proposing.
"Given the importance of the construction sector to Hume, there could not be a worse time to impose big new taxes on the construction sector – of all of those taxes, capital gains tax and negative gearing taxes are sure to do disastrous damage in a short period of time.
"Instead, I will work to help businesses in this region to grow and prosper, as I have done for the past six years.
"That means I will be working with all levels of government, across all areas of policy – tax, immigration, infrastructure, customs, trade, research and development – to help our businesses to be the best they can be.
"If I have the privilege of continuing to represent this great electorate of Hume, I will focus on fighting for small businesses in this region." 
Caption: Angus Taylor addressing a small business forum in Goulburn on Wednesday night.
FEDERAL COALITION INVESTS $BILLIONS IN HUME
MAKING THINGS HAPPEN FOR HUME
Loading Map...