Wollondilly

one-year-olds top national immunisation register

Tuesday, 30 October 2018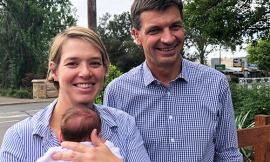 Wollondilly one-year-olds have recorded the highest rate of immunisation across Australia.
In the September 2018 quarter, 98.7% of all babies aged 12-15 months in Wollondilly had been fully immunised.
Federal Member for Hume Angus Taylor said the number of Australian children who were fully immunised was continuing to increase to record levels.
"Great to see Wollondilly is topping the charts," Mr Taylor said. "More parents are getting the message to protect their children with life-saving vaccines."
New data for the September 2018 quarter shows the national immunisation rates for five year olds was 94.62 per cent, which is the highest figure on record, up from 94.42 per cent in the June quarter.
"Immunisation saves lives and protects lives and it is important that we keep the public informed about its benefits," Mr Taylor said.
From July 1 this year, every 12-month old in the country is now eligible for a free ACWY meningococcal vaccine and every expectant mother given the opportunity to vaccinate against the whooping cough with a free vaccine.
Last month, the Australian Government announced it would invest $52 million to protect Australian teenagers against meningococcal by putting the meningococcal A, C, W and Y vaccine on the National Immunisation Program from April 2019.
Mr Taylor said immunisation rates were staying high right across Hume.
"The immunisation rate for one year olds in Camden sits at nearly 96% and over 97% for five year olds.
"In the Goulburn and Yass region, immunisation rates have continued to climb over the past three years. The Southern Highlands also has rates above 90%."
Picton mum Elizabeth Sharpe said she wasn't surprised by the high immunisation rates in Wollondilly.
"We are big believers in immunisation. We've made sure our three other children are fully immunised and will do the same for baby Leta."
The Morrison Government has invested $446.5 million in the National Immunisation Program this financial year.
The September 2018 child immunisation rates are available here: https://beta.health.gov.au/health-topics/immunisation/childhood-immunisation-coverage/immunisation-coverage-rates-for-all-children
FEDERAL INVESTMENT IN HUME TOPS $10 BILLION
MAKING THINGS HAPPEN FOR HUME
Loading Map...