Wollondilly

unemployment drops to 2.3%

Thursday, 07 February 2019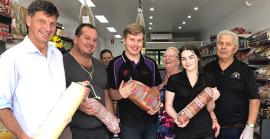 Wollondilly's jobless rate has dropped to 2.3% (September 2018 quarter) from 3.3% (September 2013).
According to latest labour force figures from the Department of Jobs and Small Business, Warragamba's unemployment rate is the lowest in the Wollondilly local government area, sitting at 1.3% (Sept 2018), down from 3.2% (Sept 2013).
 

Location

 

Sept '13 unemployment

Sept '17 unemployment

Sept '18 unemployment

 

Warragamba

 

3.2%

1.9%

1.3%

 

The Oaks- Oakdale

 

2.5%

2.6%

1.8%

Picton-Tahmoor-Buxton

4.2%

3.9%

3.2%

 

Douglas Park – Appin

 

2.4%

1.9%

1.5%

 

Bargo

 

3.8%

3.9%

3.1%
Federal Member for Hume Angus Taylor said the jobless numbers in Wollondilly were impressive.
"You can't get much better than these results," Mr Taylor said.
"The very low unemployment in Wollondilly directly reflects the increased job opportunities from strong economic growth and infrastructure investment across northern Hume.
"More Australians are now in work than ever before and I'm pleased we are seeing the benefits flowing in to significant parts of my electorate, with more local jobs."
More than 1.2 million jobs have been created since the Coalition came to office in 2013.The Government has pledged to create an additional 1.25 million jobs over the next five years.
Caption: Angus Taylor visiting small business owners the Logozzo family who are employing 11 casual staff at two retail outlets, including the newly opened Nick's Deli in Warragamba village. (From left: Angus Taylor, David Logozzo, Dee-Jay Logozzo, Kaye Logozzo, Isabella Talbot, Nick Logozzo)
FEDERAL COALITION INVESTS $BILLIONS IN HUME
MAKING THINGS HAPPEN FOR HUME
Loading Map...