Work

begins on Abercrombie River Bridge replacement

Tuesday, 05 March 2019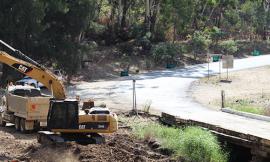 Work has commenced on the $1.5 million replacement of the Abercrombie River Bridge.
The project will replace the existing low-level single lane timber bridge, which was constructed in the 1950s, with a new two-lane concrete culvert bridge and involve the construction of new two-lane road approaches approximately 450 metres long.
The $1.5 million project is jointly funded by the Federal Government, NSW Government and Upper Lachlan Shire Council, with work carried out by Oberon Council.
Federal Member for Hume Angus Taylor said the Federal Government is pleased to contribute $762,000 towards the project under the Federal Government's Bridges to Renewal Programme.
"The Bridges Renewal Programme is designed to drive greater efficiency in road freight and traffic movement," Mr Taylor said.
"By upgrading the Abercrombie River Bridge residents will enjoy better, safer and more reliable road access. Freight from farms and local factories will also be able to pass safely along quicker routes."
Member for Goulburn Pru Goward visited the site today, along with Liberal Candidate for Goulburn Wendy Tuckerman, Upper Lachlan Shire Council's Mayor John Stafford and General Manager John Bell and Oberon Council's Mayor Kathy Sajowitz and General Manager Gary Wallace.
"The Bridge is the most direct link between Oberon and Goulburn. It is wonderful to see work commence on this vital local piece of infrastructure, which, when completed will encourage economic and tourism opportunities," Ms Goward said. 
"The NSW Government is delighted to invest to $675,000 in the project under the Fixing Country Roads program, which ensures our roads are able to carry the food, produce and raw materials that support the local community."
Cr Stafford said the existing bridge, constructed in the 1950s, is showing its age as well as the effects of several flood events and increased heavy vehicle traffic in the form of B-Double logging trucks, general freight trucks and livestock transport vehicles.
"This project will significantly improve access and road safety, servicing the needs of road users now and for generations to come," Cr Stafford said.
"On behalf of Upper Lachlan Shire Council I would like to thank the Federal and NSW Governments for making this project possible through this investment in our Shire, which is in addition to $88,000 in funding from Council. I would also like to thank Oberon Council for working with us to advance the project and undertaking the construction work."  
Ms Sajowitz said the project was a wonderful example of neighbouring Councils working together.
"Oberon Council is pleased to be working in conjunction with Upper Lachlan Shire Council on the planning and construction of the replacement of the Abercrombie River Bridge, which will benefit residents and visitors to both Shires, as well as enhancing the Tablelands Way experience" Ms Sajowitz said.
"We would ask all road users to allow for extra travel time, obey road signage and traffic control measures and drive to conditions while construction work is carried out." 
The Abercrombie River Bridge replacement project is expected to be completed in June 2019.
FEDERAL COALITION INVESTS $BILLIONS IN HUME
MAKING THINGS HAPPEN FOR HUME
Loading Map...